Technika "wskazujące trójki" jest bardzo podobna do "wskazujących par". Można ją zastosować, jeśli dana notatka znajduje się tylko w trzech polach bloku 3x3, a także należy do tego samego rzędu lub tej samej kolumny. To znaczy, że notatka ta musi być rozwiązaniem jednego z tych trzech pól w danym bloku. Więc, rzecz jasna, nie może być rozwiązaniem jakiegokolwiek innego pola w tym rzędzie lub kolumnie i można ją wyeliminować z tych pól.
Na przykład:
Spójrzmy na prawy dolny róg. Wszystkie pola w tym bloku, które mogą zawierać cyfrę 1, znajdują się w jednym rzędzie. Ponieważ jedynka musi znaleźć się w prawym dolnym bloku przynajmniej raz, jedno z podświetlonych pól na pewno będzie ją zawierać.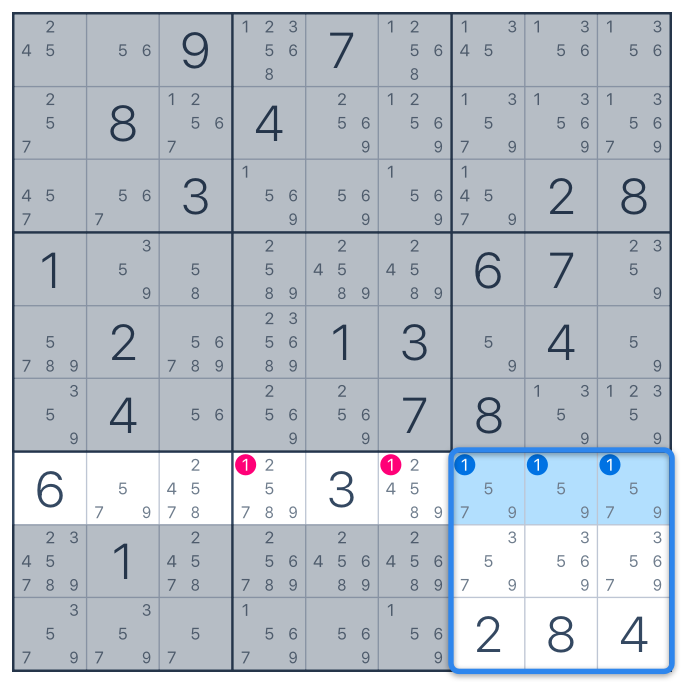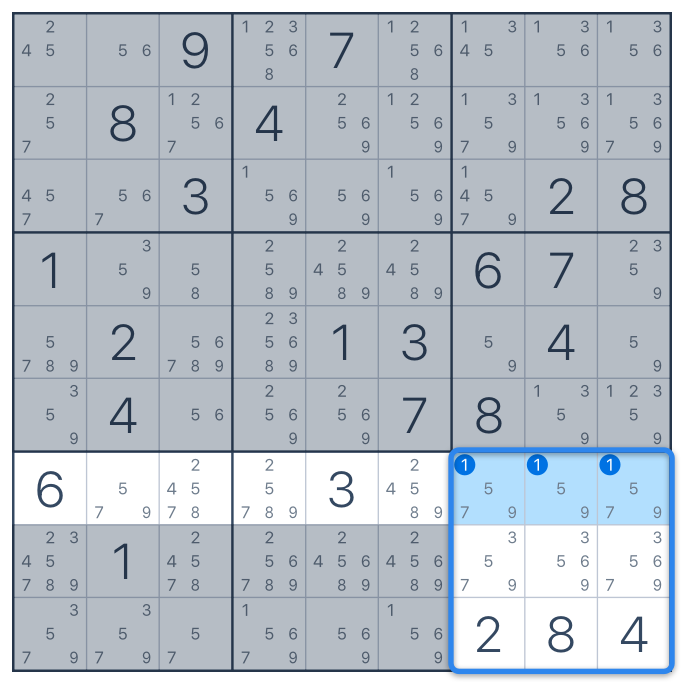 Gdy już to wywnioskujemy, możemy spokojnie usunąć wszystkie pozostałe jedynki z notatek w tym rzędzie, żeby uniknąć zamieszania.
Pamiętaj, że tej samej sztuczki możesz użyć na blokach, rzędach i kolumnach.
Właśnie tak działa technika "wskazujące trójki". Gdy już się jej nauczysz, możesz trochę poćwiczyć.